Since 1977, DRSC has been an non-profit corporation serving people with disabilities.  We serve as the Protection and Advocacy System and Client Assistance Program for South Carolina.  DRSC is independent of all agencies providing treatment or other services to people with disabilities and our services are free.
Mission
We protect and advance the legal, civil, and human rights of people with disabilities in South Carolina
Vision
We envision a society where all people, regardless of type or severity of disability:
Live free from abuse, neglect, and exploitation
Are empowered through self-determination and self-advocacy
Have equal access to services such as education, public transportation, and health care
Are productive members of society in which competitive, integrated employment is the first and preferred option
Live, learn, work, and play independently in an integrated barrier free community
Annual Report
Read our most recent Annual Report fiscal year 2021-2022
Annual Report  fiscal year 2020-2021
About Disability Rights South Carolina
Learn more about Disability Rights South Carolina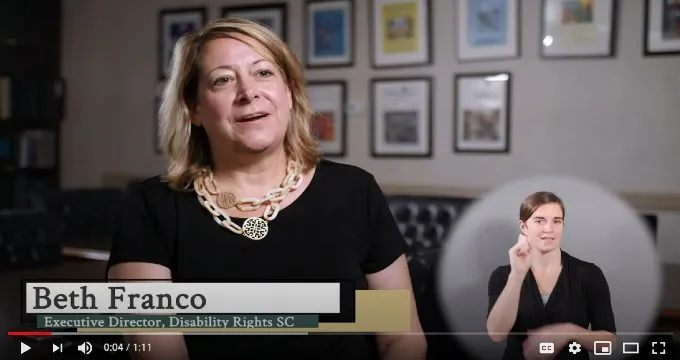 Watch Video
Not sure where to start? We have a few recommendations.
If you have questions, you're always welcome to contact us directly. We also have a wealth of information on our site about being a strong self-advocate and knowing your rights.